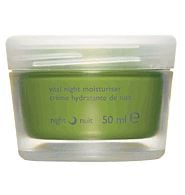 naturista

looking for a great botanical blend for night time hydration? here you go. it smells nice and feels really rich, but it seems a little heavy going on very dry skin. it didnt break me out at all, and it doesnt burn my eyes...lol. its a great natural product if youre not into high chem formulas.

Pretty good for price

I have been through what seems like hundreds of day and night creams looking for one that doesn't burn or break me out. After two weeks of using this, I am happy to report that this product does neither. I don't have sensitive skin, but many of the products are too heavy and clog my pores or have so many chemicals they burn (and smell bad). This cream has a very light pleasant smell and goes on...read more without being greasy or too heavy. And I know it doesn't matter, but the cream has an pearlized sheen that makes my skin glow. I would definitely buy this product again, and plan to purchase the rest of the line.

Yuck!

I do not like this moisturizer. It felt greasy, and my face broke out when I used it. The fragrance was odd to.
Back
to top