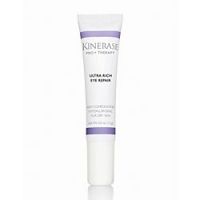 Editor's Rating & Review
Don't let the "Ultra Rich" fool you. Kinerase Pro+Therapy Ultra Rich Eye Repair is light enough to wear under makeup without getting raccoon eyes -- a solid performer that absorbs fast, moisturizes well and won't clog pores. But claims of "Eye Repair" are slightly over-hyped; "severe, visible signs of aging" and "damaged skin" won't be reborn, just a little better moisturized. Take caution at applying too close to the eye or suffer an unusually intense lemon-juicy sting.
Reviewed by beth on 11/07/2008

How we review products
Fair results,TOO $$$!!!

For the price they charge for this. I expected a much more dramatic result, and quicker than less-expensive creams. TOO MUCH CELEB HYPE!!!!

Hydrating, but that's about it.

I've been curious to try this, but after about four weeks usuage, the only difference I notice is that it hydrates the eye area more. This product is overpriced for what it claims to do.

Not so sure...

My Derm gave me this to try. I have used other products that do the same or more. Yes, its creamy, and you can wear your makeup over it, without any issues. However, i used it all winter, last year, and i didnt see anything. I am now trying another "drugstore" brand, which i am finding better already.
Back
to top