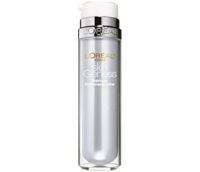 Mixed feelings

It is a bit more like a gel than a serum because it leaves a sticky film-like substance on my face. I followed up with their matching product "Skin Genesis Daily Moisturizer SPF15 Lotion". While my cheek and neck got tighter and smoother, this combination often caused breakout around my chin and T-zone area. When I used up about the half of the bottle, I gave these away to my mom who ended up loving them. Perhaps my skin is not yet dry enough to use this product line.

Soft Skin

I really love this daily serum because it does an amazing job at softening my skin. I noticed a more even skin tone after using and my skin became silky and soft, and didn't feel oily.

Feels great

now i can't really comment on how well this serum works at anything dealing with anti-aging (I'm only 21) but I will say it works great as a moisturizer. It goes on so light and you'll forget you have it on because it absorbs so quickly and thoroughly. I have combination skin and sometimes have really dry spots (especially in winter) while still having to deal with oily spots so this works perfect...read morely for me because it packs enough moisturizing power to smooth out flaky, dry spots and is so lightweight that I don't have any issues with feeling oily or greasy. It makes my skin feel silky and smooth and I love it.
Back
to top