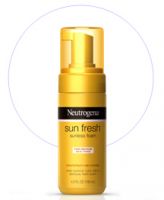 Great color ..smells yucky

I do love the natural color, however, I feel like I need to be picasso to get this foam even. You have to exfoliate (really well) and moisturizer (really well) to achieve the best overall color and evenness. I do loathe the fact that it does build up over time and flakes off looking horrible. The smell isn't very appealing after it sits on your skin. I say spend the extra 10 dollars and get airbrush done.

Barely noticeable results

The smell was AWFUL as the tan developed and the results were barely visible. After one application I would have hoped to have had a light golden glow (I have very fair skin and I was still pasty white after using it), but after 2 applications the results were still too light in my opinion. I also found that it was difficult to apply as the foam is clear so it is difficult know where it has gone on. On the plus side, it wont turn you orange.

Not my cup of tea

I tried this brand because I do like their other items. I wasn't too impressed with this one. First of all, I didn't like the smell - it smelled like a fake tanning product. Maybe that shouldn't bother me, cos it smells like what it is, but I've smelled some that smell like coconut and that's much nicer. I'm quite dark complected but this still streaked on me and left ugly globs if I didn't rub it...read more in one hundred percent perfectly. The only thing I liked about it is that I didn't have to put up with it for long cos it wasn't long lasting.
Back
to top