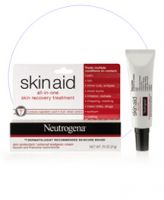 Neutrogena Skin Aid
As low as
Neutrogena

Love this. I keep it handy for any problems on my skin.

Review subject

Agreed. I called Neutrogena today and they said it is not discontinued, but that no stores in my area (southeast lower MI) have ordered it. Nor is it available on their own website. I love this stuff and use it for everything.

AMAZING PRODUCT!!!

We have to get this product back on the market. I know I am not the only out there looking for it. I have searched every store in my area and the same statement by clerks is "I keep getting asked if we have that stuff." My son has serious skin problems and he is only 4yrs. old. This was the only product that healed his cuts and kept his skin clear of rashes. I am truely sad and don't kno...read morew how to handle his skin issues without it. I have tried everything!!! NEED TO FIND IT! NEED TO GET IT BACK IN STORES!
Back
to top