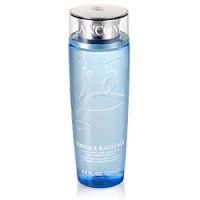 Strong stuff

I was kind of surprised when I saw that perfume was the third or fourth ingredient, but you really can tell when you open the cap. It's a little overwhelming as you put it on. This toner is also pretty strong due to a good bit of alcohol in it - don't exfoliate before using this or be ready for the burn! I have been using my sample size, and may trade in my full size for the moisturizing toner as it doesn't have alcohol.

It helps keep my skin clear

I like this toner more then I expected. It does have alcohol in it, which is one of those ingredients you are supposed to avoid, but this toner doesn't burn at all. It really seems to be helping keep my skin clear and less oily through out the day. It is really great for the summer, but I think it might be too harsh for the winter. The one thing I really don't like is the smell. The perfume s...read moremell is extremely strong, but thankfully fades really quickly. I love Lancome products but I really wish they would take the perfumes out of their cleansers and toners.

Strong alcohol smell but works great if you can get past it

I use the Radiance cleanser and then use the Radiance toner afterwards. The results are fabulous! I have combination/dry skin with some light wrinkles and I definitely see an improvement in my skin's appearance after using this product for a short time. Lancome is not cheap but I thoroughly love every product I've ever used. Worth it!
Back
to top