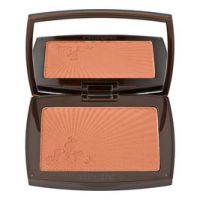 I love 03 Sunswept!

I purchased this last year before the summer with the intent on using it for just that, but never got to. I opened this little gem up recently and love it for THIS summer. I purchased the shade 03 Sunswept and feel this shade is great for my skintone; I have a dark brown skin complexion and tan very well in the summer. This bronzer has a matte finish which I love during the summer months as any...read morething sparkly or glittery will make me look oily and sweaty and aside from that there is not really any kind of smell to it. Sunswept has great pigmentation and shows perfectly on my skin before I blend it out so it's not too dark. I use bronzer in the summer just to contour my nose, chin, the lines under my cheekbones, and the bridge of my nose and I feel this shade gives my skin that perfect contour I want without it being too dark for my skin and not too light so the contour can't be seen. I use a contouring brush to gently dip into the bronzer and tap off the excess back into the pan; a little goes a long way with a contour brush so I always dab and tab before applying to the areas of my face I want contoured. I have been using Lancome products since I was in high school as I always got hand me downs(which made me fall for the products) and always love the elegance and beauty of all their packaging and the way their powders are displayed; this bronzer has the signature Lancome flowers on the left side and grooves throughout so it looks like the flowers are shining. I absolutely love everything about this bronzer...except that it's discontinued! I will be using this bronzer through the rest of the summer and into the winter months but am going to try to make it last me a while as I will not be able to purchase this in any department store again! If you're somehow able to find it and purchase it give it a shot, it's great! Awesome job as usual Lancome!

Great if you have fair skin

Being so pale, it can be difficult to find a nice bronzer for contouring that doesn't make my face look muddy or too orange. The Lancome Star Bronzer attracted me because the color looked so natural. This is the lightest bronzer I have ever used, making it great for those with super pale skin. The color is matte (like the name suggests) and it is a more cool-toned brown than most bronzers I hav...read moree seen and tested. This is great because it looks like a more natural shadow on the face. I use this to contour my cheeks, along my jawline and on my temples and it works wonderfully. The color is very subtle, but you can build it up for whatever affect you are going for, making this such a versatile and useful product. If you are like me and have been frustrated with bronzers that look too obvious, too warm, or just plain bad, give this a test. It is a really unique bronzer. The packaging on this is also top notch. It's a very pretty compact and the mirror is generously sized. This closes tightly but doesn't actually latch, so you won't have to worry about a latch breaking in your makeup bag. This bronzer is sleek and useful in so many ways. I just wouldn't recommend it for those with darker complexions because it is such a light bronzer and you may not be able to build it up enough to get a great affect.

Perfect for palefaces

gives a gorgeous kiss of healthy color without being so dark that it looks freaky on palefaces. It's the lightest of the bronzers and I love how it gives a glow without even really changing the color of my skin much. I apply it to the apples of my cheeks and my chin and I look much less pasty without it being too much. This is definitely NOT for those with darker skin.
Back
to top