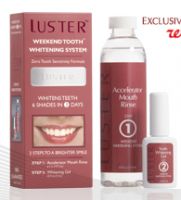 Poor Quality

I remember that I had tried this tooth whitening system a good while ago, but I also remember that the effects were not very noticeable. This kit takes much longer to use than similar products that are available, and the mouth wash is very unpleasant tasting...it tastes like medicine. Still worse, though, is that I could not see any real whitening effects-- I spent hours carefully following the di...read morerections to the letter, and could only see marginal results-- much less than what the product promises. This kit also left me with very sensitive teeth, which, while to generally be expected with tooth whitening products, was disappointing since this one barely whitened my teeth at all. I felt that this kit was a waste of time and money, and would neither recommend it nor use it ever again.

no thanks

Too time consuming and didnt notice much difference. Did not live up to its claim,

GREAT!

I just bought this product last night. Ive only used it twice and already can tell a tremendous amount of whitening difference. I think this works the best out of any whitening product that I have tried. Ive tried crest white strips, crest night effects, the white light. This is the best. Definitely recomended to everyone who doesnt want to spend a fortune and take a chance of being disappointed, ...read morecertainly will not be with this product. This is also said to be 100% guaranteed to work!
Back
to top