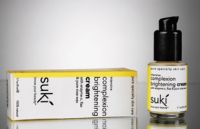 smells great

i too, won this in last years contest. i really like it, bc it smells good but i know that it is a natural fragrance of the ingredients and it feels really great. i love the way it makes my skin feel, but my face seemed to absorb it too fast to spread it out and i had to use alot! that aside, it left me soft and really glowy, even tho i dont see any less sunspots i do FEEL prettier! i dont know if i would buy this again, but i love this brand alot.

smells great!

Not sure this really will brighten - may take more than one or two bottles to work! However, it smells great, the formula is clean and thus I feel good putting it on my skin. It's not really a moisturizing, moreso a serum consistency, and it goes on smoothly and without residue. Combined with other Suki products it's an excellent, natural regimen.

WOW...

I'll admit - I first got this product because I was a winner of the eco contest last May/June and had to use my gift certificate. I'm now switching from Decleor (which I have loved and been devoted to for years) to Suki. I use this and the exfoliating cleanser everyday. My skin has been smoother and my pores have been less clogged & enlarged. My skin feels and looks great.