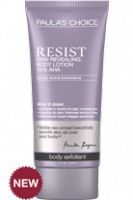 Supreme Care for Dry Skin!

I trick myself into thinking that I care for the skin of my body as well as I do in the summer as the winter. Results proved otherwise: I had slight but noticeable "cracks" in my skin after the last warm and rather carefree months, looking quite like the parched soil of a plant desperate for water. Paula's Choice "Skin Revealing Body Lotion with 10% AHA" to the rescue! And what a rescue it was...read more. At first I was not happy. The lotion, gentle and comforting to skin, has a repugnant acrid smell, but that dissipates quickly. Skin soaks in the lotion eagerly. Full of gylcolic acid, which helps in cell turnover, bringing new cells to the surface and getting rid of old ones, is paired with shea butter and glycerin, two of the most skin-relieving, skin-healing, moisturizing ingredients on the planet. I quickly forgot the smell. Vitamins C and E, antioxidants which repair skin from damage and help to generate the production of all-important collagen, are combined with grape seed oil, allantoin (an emollient which helps and/or eliminates rough, dry, itchy, flaking skin and skin irritations). Grape seed is known for a multitude of benefits: It has shown to be effective against acne, act as an astringent to tighten skin, minimize under-eye circles, serve as a non-greasy moisturizer, and increase the amount of antioxidants in the skin, therefore leaving it looking and acting younger. Despite the amount of AHA's, this is not irritating in the least. Within just a few days, my skin felt better. Two weeks later, it was noticeably smooth and soft (tiny lines of dehydration had completely disappeared). My skin turned from an arid desert to a beckoning, glowing land of softness and silkiness. Glycolic acid is highly helpful in ridding skin of unwanted brown spots, and it did so with me. My arms, legs, and torso are now as soft and smooth as the watered soil of a new plant. This is definitely a keeper!

Awesome!

This is really the best exfoliating lotion I have found for dry skin. This rich lotion absorbs quickly, and instantly softens and relieves extremely dry skin. It works especially well with continued use. I it also contains a large amount of antioxidants and anti-irritants. Normally AHA products irritate my skin a lot--this one does not. One warning on the bottle--as with all AHA products you ...read moreshould wear sunscreen when using this product. Although this is an excellent product, all of Paula's Choice products are fragrance free and some products (not all) have funny odors so buy a sample of this before committing to purchasing a bottle. It has a slight gluey odor which dissapates after drying, however there is a very slight smell left behind on your hands like you were eating spicy chips or something. Fragrances normally irritate my skin so I am glad that this is fragrance free and will gladly tolerate the very slight odor.

Terrible Smell

Whilst I have noticed a small difference to the redness on my arms. This product has an awful smell which has really limited the times that I can use it. I think if it smelt nicer I could use it more often and get the results that are promised.
Back
to top