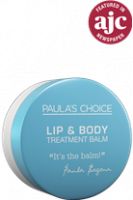 Paula's Choice Lip & Body Treatment Balm
As low as
Ultra-Rich, Effective Balm For Lips and More

With summer still hanging on and nary a cold wind in sight, my lips have been burning, peeling, and chapping. I thought I took good care of them over the last few months, but I do tend to get lax with the lovely weather. Enough was finally enough, and I needed a complete "fix" for this problem. I loved using Paula's Choice "Lip Perfecting Gentle Scrub with Micro-Beads" to remove dead skin. I t...read morehen liberally applied her "Lip and Body Treatment Balm." There is plenty of product in the one-ounce tub, as a little goes a very long way. This is an ultra-rich, ultra-thick cream which instantly provides relief in the form of cushioned comfort. It should: The ingredients are plentiful and lush, from lanolin and Vitamins C and E to wheat germ oil, castor oil, shea butter, and beeswax. The pros of this product? After one night of wear, my lips were greatly improved. I didn't feel as though I needed to continue to use it, although I chose to do so for a nearly perfect pout. The burning has disappeared, and my lips seldom peel now. The little container is great for travel. I have already treated my cuticles to the benefits, and I can go anywhere this winter knowing that I have an all-purpose deep moisturizer for face, hands, elbows, and even rough knees, heels, and feel. The price? Right now, a very friendly $9.60 for (discounted from $12.00). The cons are not enough to convince me to switch from this. It is supposedly fragrance-free, but there was a slightly repugnant waxy smell (emphasis on slightly). I also have a problem with the packaging, as Paula herself is a master of packaging to preserve the integrity of products. I would like to see this dispensed in a squeezable tube. The open tub is an invitation to growing germs and bacteria in the formula unless you are meticulous about washing your hands between uses and between using on different areas of the body. Other than that, I'm more than pleased!

Pretty good

This is a plant oil & nut butter / petroleum blend that is meant for all over use. I have used it on my lips, and on my cheeks under the eye area where I experience a little dryness and tight feeling, and it has helped. It is a little pricey for the amount you get, so I give it one star off.
Back
to top