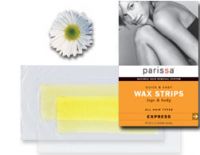 Parissa Wax Strips Legs - Body
As low as
Parissa Wax Stripes

QUICK TIPS: Instead of warming strips in your hands before separating them, try to blow some warm air from a blow dryer on them. They will separate much easier and wax won't sticks just to one of the strips (happened to me couple times). Just don't overdo it! I bought couple boxes for just $1 each some time ago (the store was closing down) and I found these strips to be just all right (especially ...read morefor the price but I don't think I'll ever seem them being sold that cheap ever again). I really liked Azulene Oil that came with strips - it doesn't feel like oil but still fulfills oil's functions!

Easy enough but could work a little better.

I tried these, my first time trying to wax my legs on my own. I love the fact that you just peel them apart, apply and tear off. Waxing hurts, but this was pretty easy to do on your own. I did have to do multiple passes in each area though.
Back
to top