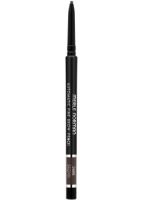 Merle Norman Automatic Fine Brow Pencil
As low as
Perfect is right.

I tried their powder but was not happy with it. Purchased this and I really love it too. It goes on with the lightest touch. That is good because you can feather it on with light strokes. If the pencil was real hard it would give you that fake penciled in look. I have plenty of brow hair but, being 63 it is all gray. If you leave your eyebrows light they do not look good. They age you. S...read moreo, i try to always put it on. Two came in my pack. Mine might be a tad too dark so I might look for one shade lighter. Good product. I prefer the automatic over sharpening.

no color light enough

I'm a light brunette and I couldn't find a color light enough, so I'm not sure what blondes can do with this brand. Also, too waxy

love it!

This pencil fills in perfectly without having a drawn on eyebrow!