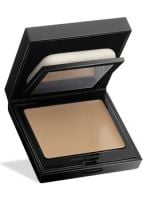 Merle Norman Smart Finish Compact Makeup
As low as
Serves its purpose

I am only giving this foundation a 7 because it did exactly was it was supposed to do, which was to cover up imperfections and give the illusion of flawless skin. I will not give it a 10 because I absolutely hate heavy, thick bases that feel like I'm wearing a mask. I had to wear this foundation on many occasions where I made public appearances on camera or for photo shoots. Again, this is exce...read morellent under stage and camera lights, as they tend to wash you out and make you appear extra shiney, and this makeup eliminates those issues. If I were on television everyday as an anchor, this would be my choice, but since I have a regular 9-5 job that involves no cameras, I think that I will stick to a makeup that is lighter and lets my skin breathe.

MN Smart Finish Compact

I usually use MN Powder Base in the fall & winter. But use Smart finish in the summer. I like the foundation , however it does get shiny late in the day. When I use foundation primer from Merle Norman, I do not have this problem and am more please with how the product stays.

It covers good

I like this but I still use a powder over it b/c I have oily skin. It's not my favorite by Merle Norman but it is a good product. It looks it's best when you first apply it.