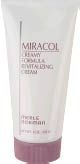 Since I was 13

I started using this stuff at 13 loved it. Became cheap and went to different brands of masks, and tried different lines, origins, clinic, all kinds of department store stuff. I am done now and am back for the real thing because nothing compares. It smells not so great, but it makes your skin beautiful.

love, love, LOVE this!

I love telling the story of my first experience with Miracol- my dad told me to get it! Yup- pops was who recommended it to me. I was a teenager and was having those crazy breakouts so he took me to buy a bottle of it. I'm the world's worst at any regimen but whenever my skin is freaking out- I'll do a mask or two and next thing I know- beautiful skin! The smell doesn't bother me and I think the w...read moreay it feels is so awesome- it's like a hoover on your face sucking the impurities out. And yes, some of the other posters are right- you'll need to use it a couple to few times because it will be bringing out pimples and grime, etc. Enjoy and hope this helps! Ciao!

Hook Line and Sinker! Ask for samples!!!

I am a self-proclaimed beauty product / spa hoe! I first recieved a free sample of MIRACOL from the Merle Norman studio a few months back. I now understand why the studio gal was so willing to provide me with an ample handful of samples...it's like "crack" (metaphorically speaking). A few weeks ago, I finally ran out of my free samples so drove myself to BFE and purchased the "beauty in a bo...read morettle." Along with regular microdermabraision treatments, eating better (well better than I did before my half-hazard New Year's resolution) MIRACOL has improved the condition of my skin. My skin is softer, my pores are smaller, and a youthful glow temporarily returns after every treatment of MIRACOL! Ahhhh....rainbows and butterflies :) Kidding aside, it's a great product. I would have given it a 10 if it weren't for the smell and the distance I have to drive to get any Merle Norman products.
Back
to top