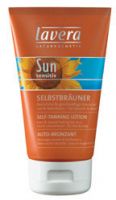 Lavera Sunless Tan
As low as
Expensive and Just OK

Because this product touts itself as being "organic" I thought I'd give it a try. Unfortunately, the results I got from it were very average. The color was what I consider medium but didn't last very long. After a few days the tan had pretty much disappeared. As for it being organic, I see a lot of the same ingredients in this as other supposedly non-organic self tanners. One thing I did like was the smell. But considering how much it costs, I probably wouldn't use this one again.

Amazing!

I've been wanting to try this product for a while now and this year for prom I finally did. Perfectly amazing! It gives you a gradual, REAL looking tan and smells so good too! The only down side is that it's a little expensive but it was well worth it. I will definitely be buying this again!
Back
to top