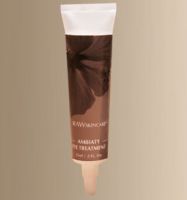 Nice Natural Product

I like this eye cream i had to switch to something richer in the winter but it's a nice lightweight eye cream

Work-in-progress.....

I just started using this, and so far I've had less results than w/the facial serum - it DOES go on nicely, absorbs well and hydrates the skin well under the eyes. We'll see about the dark circles......

Part of a Trio

I've been using the serum, eye cream, and other cream for about 6 weeks. Yesterday, I met a friend in the grocery store that I hadn't seen in a while. She said she hardly recognized me--she couldn't say just why. Finally said I looked younger, more relaxed, whatever. I knew what she meant. Using these three and Raw Mineral make-up has greatly improved my skin (less lines and wrinkles, fresher, h...read moreealthier looking skin). I'm very pleased with the results that I am getting. A little more than I am used to spending, but well worth it to me.
Back
to top