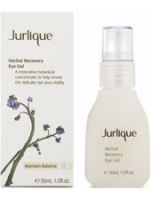 Arrrr, my eyes sting

Couldn't figure why my eyes were teary and stung, until I read the ingredient list on this product. The culprit. Alcohol. Why is there alcohol in eye gel? It does dry down nicely. Soft to touch. I cannot tell whether or not my eye area has recovered, moisturized, etc.

Not worth the price at all!

This product was horrible because 1) it was way too thin and 2) it smelled bad. I tried to put this on my eye area but it was too runny (even when only a drop of the product was applied!) This texture might be good for some people, but I prefer a thicker consistency in my eye products so that they never drip into my eyes. Especially in Winter, when I need some thing for my dry skin this did not fi...read moret the bill. The smell was also odd, and I just could not keep it on my face. This is some thing very personal though, so some might like it. To me, it smelled like rotten herbs that were left in the fridge drawer too long. I would save your money and try another eye cream!

A Little Goes a Long Way

This is a very special gel. It's not drying, as some eye gels can be. I did notice a tiny bit stinging when a little got in my eye, but you're not supposed to put the stuff in your eye! It has a pleasant smell, too.
Back
to top