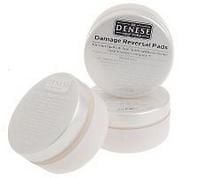 Did not work for me

Sadly, this did not work for me. I also have hyperpigmentation on my cheeks and forehead and I saw no visible results. I used this with the treatment stick and still, no results. Plus, these smell terrible!

Bad product

I bought this product after I read her book. I am 32. have mildly oily skin, no acne / wrinkles just some brown spots. Live in cold whether ( Chicago). . After using it for 2 days I started to get pimples and hardly break out using anything. I stopped immediately; it was complete waste of money. Will not recommend, over priced, could use more than 3 pads so don't know if it works or not. If it works for you then moderately expensive

Not Impressed

Tried this per instructions and went thru 60 pads and 60 pads later saw NO improvement. Plain hydroquinone 4% cheap generic from your dermatologists works. This sadly did nothing.
Back
to top