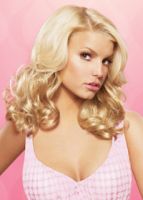 hairdo by Jessica Simpson 18" Synthetic Wavy Hair Extensions
As low as
Great product.

I have short hair and in another review I explained how I use her bangs front and back while growing out my short layers. This product is great for having long hair. Again I bought 2 - one for front and sides and one for back and sides. I have had lots of compliments with this. I bought 2 because they are less expensive then a wig.

2 years, and still going strong!

I have had this piece for 2 years, and it's still going strong. I adore wearing it and get tons of compliments. It's fun to wear and gives me options since I have very fine hair that just lays there. It's easy to put in, and stays in. I never have to worry about it coming out and embarassing me. To make it look authentic I curl the ends of the top of my hair too so it blends in with the botto...read morem and it's sassy. It's easy to wash, just a little water with a gentle shampoo and lay to dry. It was pricey, but I think I've gotten my money's worth!

Looks too fake

The whole synthetic line of hairdo by Jessica Simpson are probably one of the worst line's of clip-in extensions. They look like they were made from the same hair as my life size barbie was when I was little. The pieces also feel like plastic. Do not let the amazing advertising for this product fool you. The synthetic extensions look extremely fake and you can find great clip-in pieces from other brands that are half the price.