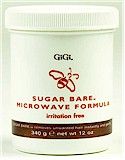 GiGi Sugar Bare Microwave Formula
As low as
Unfortunately doesn't work!

I tried this to wax my legs...it's super easy to clean up and use EXCEPT that it wouldn't stick to my muslin strips 95% of the time! When it did, it worked well...but again that wasn't very often. VERY frustrating. The best quality of it is that it washes off super easily (it's water soluble)...if it wasn't I would have been in very big trouble! If it would only stick to the cloths I would have loved it.

Easy wash off, not very effective

I bought this after using the Gigi Beeswax because that was super hard to clean up and the Sugar wax is water soluble. Unfortunately, it was too watery and didn't still well to the strips. I think the trick is to not microwave it for too long so that it doesn't get too hot - but if it's not hot enough it also won't work at all...you really have to have the perfect temp with this wax for it to wo...read morerk effectively. It got the job done for my upper lip but for anything else, it was pretty much useless. The only good thing is that it's really easy to wash off.
Back
to top