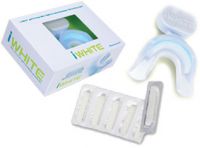 i <3 teeth bleach....

i love to bleach my teeth, and be warned when i say this, i have zero sensitivity so im not one to ask. this doesnt lighten much, tho, maybe im too light already to see a diff and it maxed out, but for the awkward tray and the pain in the rear holding the light thing, i wanted more. reg. dental quality 35%carbomide peroxide and custom fitted dental trays are much more comfortable and work better!!

so so

I was all excited when I bought this, I was expecting great results. What I got was maybe 3 shades whiter than before the treatment. Nothing special, especially for the $$$.

Save your money

I wasn't pleased with this product at all. I found it to be uncomfortable and an unpleasant experience in every way. On top of it all I noticed no difference. I'll stick to the good ol' strips anytime!
Back
to top