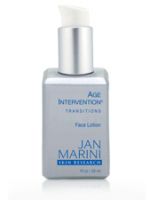 Jan Marini Skin Research Age Intervention Transitions
As low as
Great cream, bad smell!

Great line of products. Love the cream and what it does for my skin, but what is that smell. It is awful. I can't wear it to go out during the day so leave it for night time when no one is around. I can hardly take it though. I have read that others have this problem. What is it????? Help.

Jan Marini transitions

This is for Platinum--Transitions was grainy. JM recalled that batch due to the grainy texture and inability to pump it out. Contact where you got it and they will send you a free replacement. FYI--I am a JM die hard. Love her stuff

Exclusively from the editors at Total Beauty

Get the Buying Guide to see these top-rated products!

Get it now »

It delivers

I really like this product. It seems to work as advertised by smoothing the overall texture of my skin. The only downside is that the pump on the bottle doesn't work right. I think the cream is too thick to actually flow through the tiny little tube. So I had to remove the top and use it that way. The cream smells a little bit odd and the actual consistency is a little bit grainy, but I would still recommend it because it works. Jan Marini products are my new best friend.
Back
to top