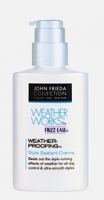 awesome!

never in my life have i been able to walk around on a rainy day without my hair poufing up, until this wonderful product came along!! i love this stuff!! this keeps my hair from going everywhere on rainy days! this just might be the one product that i will be buried with! : )

FrizzEase Weather Works cream sealant--didn't like.

Any water in the air ruins my hair (frizz and no shape is the result) *and* I love the rain..I wanted it to work. only made my hair stiff dry and sticky. It's just sitting in my closest now. :-(

Love this product!

This stuff is fantastic for hot and humid or rainy days. Even snow flurries won't make my hair get frizzy when I use this!
Back
to top