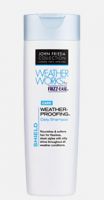 Weather-Proofing? No.

This is a good basic shampoo, but it just doesn't live up to the lofty claim of wether-proofing the user's hair. It certainly made my hair feel soft and clean, but even with styling products, it was in no way impervious to humdity-induced flyaways and flatness. I can assume that for someone who has naturally curly/wavy hair and real frizz worries, this would be even less effective at controlling t...read morehe problem. The shampoo is fine and smells nice, but it doesn't do what the maker says it does.

Delivers, just not completely

This shampoo, like most, has its good points and bad points. The good: 1) Smoothed my hair, 2) Made my hair really silky and soft, 3) Made it smell good, and 4) Did not weigh my hair down. The not-so-good: 1) Promises to reduce frizz in all weather conditions, but falls short. My hair was still frizzy, even without much humidity. Overall, as long as you're not counting on this product to get rid ...read moreof frizz, it's a great deal! I plan on buying a bottle now that I finished my sample. The search to tame my frizz will have to continue elsewhere.

Still Frizzy

Clean rinsing shampoo, but no help in the "frizz" dept.
Back
to top