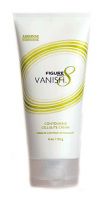 Arbonne Figure 8 Vanish Contouring Cellulite Cream
Doesn't work...

I've tried them all, I've scrubbed, peeled, massaged and subjected myself to many of these products, and they don't work.

I LOVE IT, BUT CAUTION: APPLY IT WITH GLOVES ON!

This is a great product from Arbonne, and does give noticeable results in just 2 weeks! In fact, I saw a difference in just days! I recently lost weight and was left with bumpy cellulite that was hiding under the primal layer of fat on my thighs. I began using the pre-shower cellulite scrub (also wonderful!) and the cellulite cream right afterward. I used the shower scrub twice a week and the crea...read morem every night before bed. I found it especially refreshing in the hot summer nights, because the mint oil in the product kept me cool while sleeping (*heaven*!!). I have just ONE word of caution for users of the cellulite cream: *VERY IMPORTANT* - APPLY IT WITH GLOVES ON!! Take my advice on this! The pepppermint oil in this product will stay on your hands for HOURS even if you wash your hands repeatedly and wash them well. I found out the hard way.. Do not touch your eyes, nose, ears, mouth, private parts, etc. after using the Cellulite Cream. You will be "minty" for hours if you do! But I love this product, and I can't say it enough. You can purchase the Cellulite shower scrub and other great Arbonne products here: www.annshrader.myarbonne.com

i like it

just a quick note to say that i\'ve noticed a slight improvement in my cellulite on the backs of my legs after 2 weeks of daily usage.
Back
to top