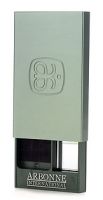 Arbonne About Face Custom Color Compact
Have in two colors

I have to be honest, I am a consultant for Arbonne. I got these to use for myself in addition to my big case. I have botht the traditional green and one white from last year's summer campaign. I use one for blush and one for eye shadow. I love that they held my colors really well and like mentioned before... no fragments in my purse. They were the perfect size to take along. Downside... I use my o...read morewn brushes outside the case because the mirror compartment holds your brush that comes with the color and makes it dirty fast. But I prefer brushes to the sponge applicator for eye shadow anyway.

easy to store and come in variety of colors

depending on what time of the year you purchase this compact it can come in some beauiful colors. Mine is a deep pink. The traditional is green. Holds the makeup well without letting fragments get all over. great size for travel as well.

Magnetic compact prevents blusher or 2 eyeshadows from falling out

I love this metal compact. It holds my blusher securely in place. The blush is tiny, but fits perfectly over the mirror. This does not slide open on its own, thus no spillage in my purse. I would have expected to pay much more than the price quoted for such a high quality compact. I highly recommend it to anyone who loves Arbonne and wants a small compact to fit in their purse.
Back
to top