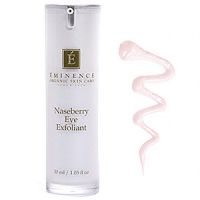 Eminence Naseberry Eye Exfoliant
As low as
Couldn't tell a difference

I got a sample pack of 6 bottles to try it out. It's very thick and it's suppose to exfoliate your eye area, but what exactly does it exfoliate if you have no wrinkles under the eyes yet and regularly get facials several times a month? I try to take care of my skin very well since I'm only 1/2 asian and scared the other side will sneak up on me and hit me with the Oldy bus..lol I do follow the ...read moredirections, but my aesthetician told me to hold off on it for now. When crows feet and lines start appearing, is what this is actually good for. I did like the thick texture and what felt like scrubbing exfoliating bead in this and the smell was nice, so I see the logic of how this would work, which is why I'm glad I bought the sample packs before spending money on the big bottle.

Very Gentle

this goes on more like a mask than a traditional exfoliant scrub. very gentle but effective. a nice way to remove dry skin from the delicate eye area.
Back
to top