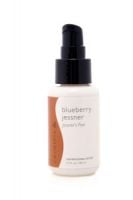 CosMedix Blueberry Jessner Peel Today's Peel
As low as
You will peel

I had this peel last week. The aesthetician put on gloves because her fingertips were peeling from doing this to other clients. She put some of the product on a cotton pad and then rubbed it on my face. My face tingled a bit. Then, she put a second coat on, and my face stung a bit more. Not bad. Then, she took a brush and put water on it and ran that over my face to activate the product. We...read more left that on for about 5 minutes. OMG! It stung a lot. She fanned me, and the stinging died down. I was very red for 2 full days with no peeling. Like really bright red. Then, the top layer started to slowly come off. Not fast, but slowly. So, I looked like a lizard. Everywhere the peel touched, the skin peeled. The skin underneath was smooth and pretty though. If the cost of the peel was the same, I say go for the Timeless Peel. This peel seems to just get the surface of your skin, dry out your blackheads and clear up acne. The Timeless seems to soak in your skin and remodel it underneath if that makes any sense. This is more of a surface peel and Timeless brings out the inner glow. I guess they both have their places.

Well, it does NOT smell

like "blueberries". That's for sure. It was okay. I was not that impressed w/the results. I would most definitely choose the TIMELESS over the Blueberry anyday.
Back
to top