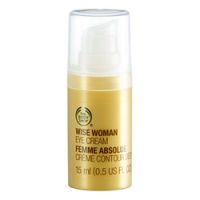 didn't care for scent

This is the one line from the Body Shop that I don't care for. The scent was a bit odd for me, I'm sensitive to fragrances. It moisturizes well enough but I prefer the Nutriganics line better. I didn't notice any change in my skin.

You gotta try this for anti-aging!

After using a rather expensive eye cream for several years, I stumbled across this and could not believe how well it worked... and for the price! It's a bargain! After about 3 weeks of use 2X daily I noticed a reduction in fine lines and puffiness. It's not too rich, and not too thin. Just the perfect amount of moisture. I know it's supposed to be for the more "mature" woman, but hey it works. I don't care!

dries my eye area

I got the sample set of this line. I have been trying to find an eye cream which is benefical for both fines lines and dark circles. I thought this would help me after reading the positive reviews. Unfortunately, it dried my eye area and made my lines deeper. In terms of dark circle, I really cannot comment cause nothing has worked so far. Four stars are just for it didnot cause any side effects, other than that, it won't be in my list even if they give it free.
Back
to top