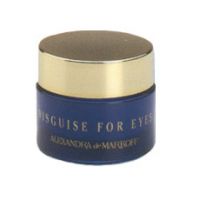 As others have stated, it's simply the best!

There's not a eye primer/eyeshadow base out there like it. I've used this for over 20 years and will never use another. No flake/crease/lines, it's beautiful, fills in the lines and wrinkles and sheds 10 years off my eyes. For 10 years I've gotten it on a website called Your-Cosmetics and will as long as they carry it. Everyone needs to try this, they will never us another eyeshadow base again!

Simply the best

I've been using Disguise for Eyes since 1977, long before eyeshadow bases came into vogue. It evens out my skintone on my eyelids and coves the blue veins that were ovious even as a teenager. My shadows never crease and lat until I remove them. Goes on a cream and dries down to a powder. Probably the first eyeshadow base to market. Definitely the best!

The Standard. Period.

I hope they never discontinue "Disguise for Eyes." What does it do? Makes your eye-shadow wear like iron...won't budge even if you go swimming. It is also a tremendous value. I go through about one jar every 18 months, using a brush to apply. When eye-shadow bases came out in the '80s, I thought they were a novelty product designed to empty wallets. But for anyone who wears eye-shadow and wa...read morents it to stay put (without drying-out your eyelid), the Alexandra de Markoff Disguise for Eyes really is the gold standard for quality, delivery, and value.
Back
to top