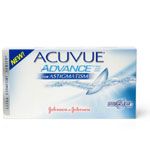 Did Not Like

Tried these but didn't like them. I did not see any better with these and they feel really thick and suffocating. The regular non astigmatism are better. Also these are more expensive and not worth it.

Very Hard to Remove

I just started using the "advance" lens and had an extremely hard time removing them. They were stuck to my eyes like suction cups--I even tried to move them to the corner of my eye with a q-tip--still wouldn't budge. In the end I had to have my newphew take them out for me. I never had a problem like this with the "toric" lens. Once in a while I would have a problem with m...read morey left eye (suction cup) but after a while I could get it out but not with the "advance" lens. I will talk to the Dr. about this and will edit this review at a later date if I can. I felt that they had the same "comfort" level as the toric lens.

Great Feel

I have a astigmatism in one eye and was worried that I could tell the difference in the feel of the lens but I couldn't.They both wore the same way.
Back
to top