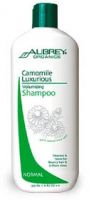 Aubrey Organics Camomile Luxurious Volumizing Shampoo
As low as
shielo

I have been trying to make the switch to natural products, and I finally do not have to sacrifice health for style with the Shielo Volume Shampoo! I have fine hair and am an everyday washer (I have to be...); this shampoo leaves my hair healthy and full. I would recommend always using the Shielo Volume Conditioner as well, at least on the ends. Great product and the best natural shampoo I've found yet.

Super volume for fine, flat hair

I love this shampoo. You definitely have to scrub your scalp a bit harder than with regular, chemical-filled shampoo but it gets your hair just as clean. I've used tons of different volumizing shampoo and this is definitely the best. I haven't tried the conditioner as I'm addicted to the Giovanni leave-in conditioner, but the shampoo is wonderful and has a light, clean scent.
Back
to top