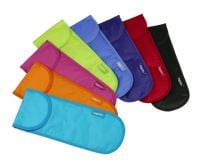 great for travel

I use this whenever I am traveling because of course I have to use my curling iron before I leave so its still hot sometimes and this protects everything around it!

love it!

I love these little sleeves (what I call them) for your curling iron. I Have small children and it keeps them from getting burned while the curling iron is cooling down.

Must Have!!

this is such a great product and such a wonderful idea.. i cant tell you have many things ive burnt up with my straightener. i love this.