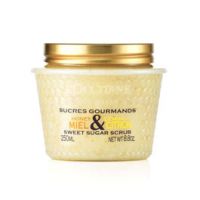 Editor's Rating & Review
L'Occitane's body-smoothing Honey & Lemon Sweet Sugar Scrub smells like a sophisticated version of those old-school Lemonhead candies -- delish! It glides on skin easily without clumping up and sliding right off. Unlike many scrubs that claim to hydrate and don't, this seriously moisturizes. It actually leaves skin with an oily finish, of which I'm a fan but not everyone will be. When used in the bath, some granules may stick to your skin, so do a double splash before exiting the tub.
Reviewed by Kristen on 11/17/2008

How we review products
OOH LA L'OCCITANE

This line's products are a special treat for me considering the price and that they are mostloy bath and body products but what a luxury when I can do it!! This is another one of their skin products that just gets better and better each time you use it. The scent along is heavenly but the scrub makes your skin like velvet-not too drying but it gets rid of dry patches. And did I meantion the fabulous smell?

Greasy skin after use.

I love the smell of this, and I think the granules are just the right size. But after using it my skin was covered in a greasy, oily layer that wouldn´t absorb. My pants felt like they stuck to my legs so I had to wash off the oil, and it was so difficult to get off I had to use really hot water and a loofah. Won´t use again.

great scrub

exfoliates, moisturizes, and smells great, too. a must for smooth soft skin.
Back
to top