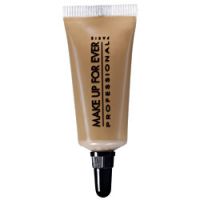 Did Not Live Up to Expectations

I do love the fact that this eyebrow product is waterproof. I read on another site explicit directions on how to use it before I bought it. It's good, but not as good as I had anticipated. It takes a lot of time to get a perfect brow. I have better results (and a better color) with "Divaderme," a mix of clay and a plethora of miniscule fibers which adhere to brows and fill in sparse areas ever...read more-so-naturally. I didn't find MUFE's product quite as natural. I don't think I would purchase this again.

Not for everyone (but for me)

A lot of people say that #4 is too dark, but it's just right for me. You only need the tiniest dab on a finger to fill in your brow and the MAJOR thing is to blend VERY well or else it does go on too dark. I use an angled eye liner brush to blend in. I used to use a pencil and dark eyeshadow to fill in my brows and I am convinced that this product will never have me going back to my old regimen. W...read moreith my old routine, my brows would look faded and ashy after a few hours, but this stays on all day without fading on me. I go to a lot of concerts as well, so it's GREAT to have the confidence that my brows won't wash off from a night of sweating and dancing because this stuff is waterproof.

not the best

Not the best staying power.