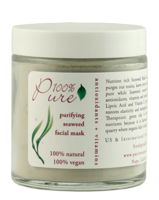 100% Pure Purifying Seaweed Facial Mask
As low as
Amazing!

I worked at Bath & Body Works when they started carrying this line and I had this product demonstrated on my hand. Working at B&BW I always had a ton of lotion build up on my hands and after leaving this mask on my hand for a few minutes all the junk and build up was gone and I had nice, tight and very clean skin underneath. I bought some that day and I have been devoted to it ever since. ...read moreThe only downside that this mask has is that, being seaweed, it is a little smelly, but don't let that put you off. I also wouldn't recommend this for dry skin, but if you have oily, combination or normal skin it is definitely a great mask for you. It is a little more expensive than drugstore masks, but it is completely worth it.

pure fruit purifying seaweed facial mask

This product, I admit, was a little weird to try at first. The thought of putting seaweed on my face was not pleasing. There was a good amount of product for your money. It made your face feel tingly, fresh and clean. I checked the ingredients, and it is natural, which is very good.
Back
to top