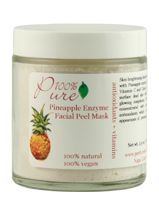 Very Effective Peel!

The 100% Pure Pineapple Enzyme Facial Peel is very effective. Yes, it does require mixing with water (what I use) or yogurt. Yes, it does have a strong smell (like pineapples to me). This peel tightens as it dries and when washed off, beautiful, radiant skin is revealed. This product is all natural and vegan which I love! No chemicals for me! Give it a try! The price is great and you might find you like it!

This stuff reeks

I found the scent of this product almost unbearable. It seriously smells like urine. I've tried using it several times now, since I hate to throw out beauty products, but it smells so yucky that I think I'm going to have to pitch it. It also has an unpleasant, gluey texture that was hard to rinse off my hands after application. Worse still, the product doesn't seem to be very effective. I did...read moren't notice that it made my skin feel any smoother, and the dry skin flakes around my mouth were still there after I used it. The fact that it has to be mixed with water prior to use was also annoying. Some people might enjoy the idea of mixing it up yourself, but I just thought it was kind of a pain. I absolutely do not recommend this product.

100% Pure Pineapple Enzyme Facial peel

this smell odd did not work for me it dry my skin i had redness it also sting& burn.
Back
to top