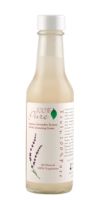 It's OK

First of all, it comes in a glass bottle. terrible idea - it dropped in the shower, almost broke, and I lost half of it down the drain. Second, it takes ALOT to get it to foam up and feel like it's even cleaning your face. Really disappointed, especially because I like 100% pure products, for the most part. It didn't overdry and cause breakouts, but I wouldn't buy it again.

Very pleaseddd

Just wish it had a wee bit more foam! Otherwise it is great!

absolutely LOVE it!

I have very sensitive skin. Over the years, I have tried so many products that overtime has damaged my skin from all the chemicals, alcohol and whatever else is in facial cleansers these days. I am a big fan of 100% pure products so I decided to try the cranberry cleanser and it works wonders! It's light, only need a little bit and most importantly it's easy on the skin. My complexion looks a lot better since I've been using it.
Back
to top