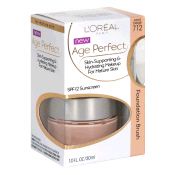 Surprising

Hi Shocking, that this product recieved any negative feedback. I love this product, I love it so much that when i ran out of it I went to buy it again unfortunately I wasn't able to find it again, thx goodness for the Internet where anything can be found, so with a bit of a search I can find one of my favorite products. As for it being thick, yes it is but the brush blends it so well that it look...read mores as if you were airbrushed. If you say that your pores were more exposed with the makeup then without the use of the makeup I believe you are using to much of the product to have it blend in evenly and without streaks. Use lease, then use the brush to blend the product. I personally put the product on my face with my freshly washed fingers as the first blend step, then I use the brush to finish the blending, it always comes out looking great. Good luck, and I hope all that had problems with the product try it again. Perhaps by using my tips. :-) Rochelle :-)

Makes Skin Look Bad!

I was very disappointed with this product! I am shocked that anyone could like it. It settled into my pores and lines making my skin look way worse than it did without any makeup at all. It's really thick and the color didn't blend well. This was an all around bad product.

Feels Smooth

I like this foundation very much though I do not like the brush that is provided to apply it. I found that the brush made the makeup streaky and was a real bear to get an even finish. When I used my makeup pad to apply I found this foundation to go on very smooth, providing good coverage. It does not settle into my wrinkles which is a real plus, but rather seems to glide over them and help conc...read moreeal. I got it on sale for only $4.95 so it was a real deal. Wish I had bought more but I was trying it for the first time. I think it will be worth the retail cost.