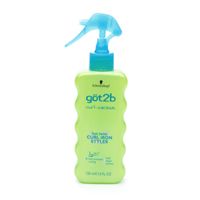 It really works!

I have naturally straight hair and it doesn't hold a curl at all! This is the only product I have tried that actually makes my hair curl. I spray it on why I was curling my hair and then just a little bit afterwards to hold the curls in place. I'm a little upset though because I don't think they sell this anymore. I've looked all over and can't find it!

Was this discontinued?

I ran out of this stuff recently and can't find it at the stores. It was one of the few curling sprays that actually made my fine hair curl!

Great product!

I purchased this at a discount store thinking what the heck did I have to lose. I was so pleasantly surprised at how this product performed. I have curly/wavy hair but the curls and waves are inconsistent and I use a curling iron to even things out a bit. This worked great, It protects my hair from the heat of the curling iron and really helps the style last. I give this product a big thumbs up. Great value for the money, too.
Back
to top