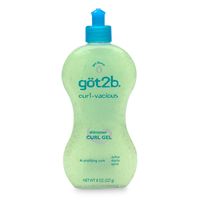 loves the little glitters

i bought it for my husband the rockstar, lol, and the little shimmer/glitters in it really pick up in the club lights, lol, and the boost it gives his long, lush curly locks holds up well in the heat of the show! smells great too, tolerable for even the least metro guy!

Same old hair gel

I didn't notice a difference in this hair gel, I didn't see any shimmer, and it didn't hold all that well, 3 or 4 hours on a normal, not-humid day.

Stiff

This Got2B shimmer gel made my wavy / curly hair curly but it also made my hair feel dirty, sticky and look dull and then it was difficult to separate the curls. It also made my hair totally untouchable so I just threw this product into the trash after one use.
Back
to top