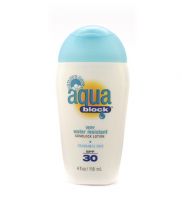 Nature's Gate Aqua Block SPF 30
As low as
really works

hard to find in my area

I like this sunscreen

My girl and I use this when we go to the beach. It's a high SPF and UVA/UVB protective. The lotion itself absorbs well so you don't have to wait long to get in the water.

Review subject

I really wanted to like this sunscreen. Don't get me wrong, the protection is great and so is the price. Plus, it has no parabens or fragrances and is cruelty free and vegan. I just couldn't get over the texture. This sunscreen is really thick and tends to leave a white cast on your face no matter how much you rub it in. It does disappear after about ten minutes, but my face always looked really oily. I was really disappointed because I had really high hopes for this sunscreen.
Back
to top