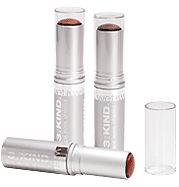 Surprised by its versitality

I normally don't get those 3-in-1 products because I wouldn't use it all over, but this is an exception. They are nice, creamy enough to blend. And they are priced right.

😢😢😢😢

Let me just say it is a mess

Good Blush!

This was the first blush that I had ever had in stick form and I loved it!I bought it in the Coy color was is a perfect rosy pink color! I always have to have cheek color that is very rosy pink because if I buy a shade of pink that is too "natural" looking it always ends up looking too orange on my skin. It is a great alternative to sometimes chalky-looking powder blush! In my experience...read more stick blushes have a tendancy to smear a little bit or rub your foundation off when you apply them. But I didn't have those problems with this stick! Mainly because the formula is alot more solid than others out there, which I think is great! The only bummer thing was that I had to throw the thing out because the cap got so cracked up that it wouldn't stay on anymore and the blush got a little smushed!
Back
to top