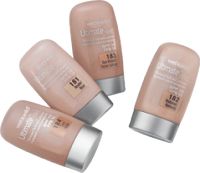 Review subject

I have dry skin, so I personally LOVE this product. But, if you have oily skin-beware. This has a SUPER dewy texture.

Not the best moisture but sheer color

I would say that if you already use a good moisturizer or cream, this is a great product if you want sheer coverage. It won't feel heavy and is easy to apply.

Excellent for the price

While not the fanciest option on the block, this drugstore cheapie does a decent job. I got a compliment from a co-worker recently while wearing this, "you look good natural! I wish I had your skin!" I wanted to claim that it's my natural good genes, but I owned up to using a tinted moisturizer. The Natural shade is a good universal light shade and is what I use. The main thing you have to watch f...read moreor is to look in the mirror when you apply it, unlike regular moisturizer it will look funky if not applied evenly! Don't try to put on too thick a layer, or you might as well just use standard foundation. Remember, the point of this stuff is to lightly enhance your natural beauty. If you need heavy coverage, this will not help.