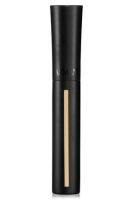 Giorgio Armani High Precision Retouch
As low as
High Precision Retouch

Before you plunk down approx. 35 smackaroos for this, make sure to try it and find out if the limited colour selection works for you. The pros: a fine tip brush paints on the most delicate amount of this liquidy smooth concealer - it doesn't cover major dark circles but will blend in nicely and doesn't appear overly drying or settle into fine lines. The cons: tiny amount for the price, limited colour selection, limited coverage.

A MINI MAGIC WAND

No doubt I'm not a magician but I do have a magic wand - it's my High Precision Retouch by Giorgio Armani. Breathes there a woman with skin so perfect that she doesn't need a little concealer now and then or every time she sets foot outside her door? Many concealers have been tried by me and found wanting save for this little gem in a 3 ½" inch tube. The applicator brush is slim, ...read morevery much like an eyeliner brush making possible the most delicate of touch-ups. There's no way that my finger could cover a blemish as perfectly as this brush. Perfetto, Armani! It's available in a wide variety of shade to complement every skin tone.
Back
to top