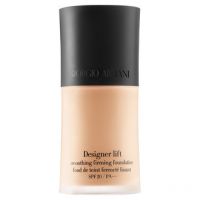 Money well spent

Love this foundation it makes your skin look so flawless and smooth It not oily or too heavy, its just perfect. It also suits my skin tone perfectly . 10 out of 10!!

Creamy Perfection!

I have over-50, post-menopausal skin that is dry and needs high SPF protection. This foundation is so moisturizing it could qualify for a treatment cream! I am wearing this during the cold months, because it gives my moisturizer a boost as well as providing creamy, medium coverage that does not cake. Like another reviewer, I went a shade darker (e.g. 6 instead of 5) because of the high titanium dioxide content. Dream foundation.

Nice Moisturizing Coverage

I hadn't used this foundation in a few months and went back to it and wondered why I quit using?! It makes your skin smooth and silky - gives a medium to full coverage without being "cakey" and overall makes the skin feel great. Since it's high in SPF you may need to go a shade darker than normal, otherwise you'll have that "white" glow.