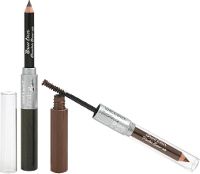 Wet n Wild Ultimate Brow Color and Set
As low as
wet n wild ultimate brow color & set

having sparse eyebrows is a pain. tried a few products, but really like this one. with the choice of a pencil or mascara-like brush,you can make them look thicker or darker, or both. whatever mood you have, this will help. give it a try, its very affordable!

Yeah! Finally found a good brow product!

I like this one even better than Anastasia! It has a pencil and a liquid with a brush which sets your eyebrows in place and gives them more color. Looks natural, and doesn't smudge. I love this and sorry I didn't find it sooner before using lots of others that cost a lot more and are not as good

A good product for the money

What I like best about this product is that it is inexpensive, it comes in a great shade to suit blondes, and you can apply it with quick precision. What I don't like, it is not really convenient to apply during the day on the go. Still a great bargain! There is only one product I like better, a powder you apply with a stiff eyebrow brush. But the brush isn't in the kit and I am seldom organized enough to find it. So this is my second "go to" choice.