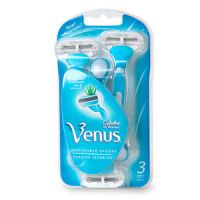 Great for travel

I keep Gilette Venus Embrace in my shower, but I hate to drag my normal razor along when I travel (I also like to keep a travel bag of toiletries packed so make packing for trips easier). These Venus disposables are perfect for travel! If they get lost, forgotten or broken sometime during my trip it's no big deal since they are relatively inexpensive and easy to replace. They also work just as well as any other Gilette razor. I'm impressed with them!

Traumatized

The razor i used that until now scares me is Gilette Venus the one with built in wax on both ends of the razor head (new product i suppose)its aim is to eliminate the need for any gel to make the razor glide, however,the wax when wet becomes very slimy and because the wax is a big clump,you cant see very well where the blades are going and, yes, i had the the biggest nick, is what i got,i will stick to the normal razor from now on,some improved versions just make it over the top.

Does not last....

I had one the problem I had was the head with the moisturizer would break apart and come off long before it was actually worn out like after one use. so I think it was a waist of money. If the head part with the moisturizer would hold up better it would be a great razor.
Back
to top