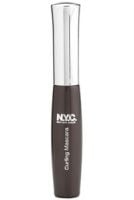 Hairspray Hold

While this does the job, it may cause eyelashes to stiffen so hard that applying this along the base of the upper lashes may irritate the eye. This has a steady unfading hold and comes in blue which I love to use for fun and applying a blue tint on top of rich black mascara actually brightens the appearance of the eyes so instead of splurging more for a high end blue mascara you'll just use for a...read moreccentuating, this does the trick and fits the budget. The brush does have an arch in it which helps push and curl the lashes up vertically, however, this formula is rather drying so I wouldn't use it too frequently for the sake of my eyelashes' health.

Ick

I have had some luck using some cheaper brands so I decided to try this one. But I found this to be to clumpy and didn't do anything for my lashes.

Awesome Mascara

I know some reviewers like to know a reference point to judge somebody's credibility--I know I do. When someone likes a drugstore product I often wonder: Does this person only buy makeup at drugstores? How does this product compare with say, Urban Decay, or MAC? Is this really a great overall eyeshadow or a great "drug store" eyeshadow? Let me reveal, then: I have bought and/or used Revlon Grow Lu...read morescious, Josie Maran GOGO, Sephora brand, and Cover Girl mascaras in the last month. I bought this on sale at WalMart last week and have used it every day since. I can't say that for any of the other mascaras I listed above. Revlon GL is awesome but flakes like nobody's business, Josie Maran smudges like crazy, Sephora is just bleh, and the Cover Girls I loved buy they lengthened and defined without a bit of curl. NYC is everything I love in a mascara: problem-free application, great definition and length, no clumping, no smudging, no flaking, and curls like crazy. (I don't like that creepy medieval-looking eyelash curler.) It's a skinny, curved brush, which means it doesn't give you great big fat lashes, but naturally beautiful ones. I have long dark lashes, so maybe this wouldn't be the best product if you have short sparse ones. I found I was a little relieved to have normal-looking lashes rather than big fat obviously enhanced ones. This makes me look fresh and awake. I think the fact that it's Pearlized Black rather than just flat black mascara helps as well, as I have dark shadows and anything dark under or around my eyes makes me look sick. The only reason I'm not giving this the highest rating is because it seems to be a little dried out, or else it just doesn't come out on the brush very easily. I don't know if that's the mascara or if it sat in the store for too long. If you want DiorShow or Buxom lashes for evenings, go for it. But if you want the perfect weekday/workday mascara, this is it.
Back
to top